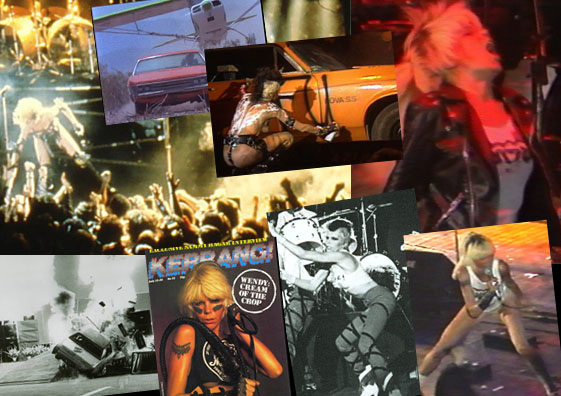 BIO OVERVIEW
So radical, so unique, innovative and ahead of her time was the now legendary Wendy O. Williams (WOW), that today, nearly 30 years after she first exploded onto the New York underground scene and nearly 20 years after she stopped performing, and nearly 10 years after her death, she still remains a threat to the poseurs, phonies, and hypocrites of the male-dominated cultural (and music) establishment and their service (hidden or not) to the hegemony of the power elite. Known during her day as first the "Queen of Punk", "Queen of Shock Rock", and "Dominatrix of the Decibels," and later the "High Priestess of Metal". "Wendy O." (or "WOW") as she was typically called, first grabbed the public's attention as front person for the culture-shattering concept band Plasmatics, the counter-culture band of changing musicians created and put together around her by Yale MFA holding "anti-artist" Rod Swenson in 1977. Both Williams and Swenson shared a revulsion for the banality, conformity of contemporary cultural consumerism and its consequences and were determined to launch a head on assault. Williams' fearless attitude and uncompromising tough agressive vocals, claiming territory previously reserved for males, even while giving the stiff middle finger to the establishment saw her get a Grammy Nomination as Best Female Rock Vocalist of the Year, while her jaw-dropping stage shows and political stance saw her banned in London, arrested multiple times and severely beaten by the police in Milwaukee, WI. During her 10 year recording career she produced 8 studio albums, multiple EPs, each which still stands as a landmark in musical history. Her death-defying accompanying videos still stand unmatched today, as do her stage shows which saw her destroying icons of mass consumerism such as the sledgehammering of TVs and the blowing up of full size cars on stage as well as the chainsawing of guitars. MORE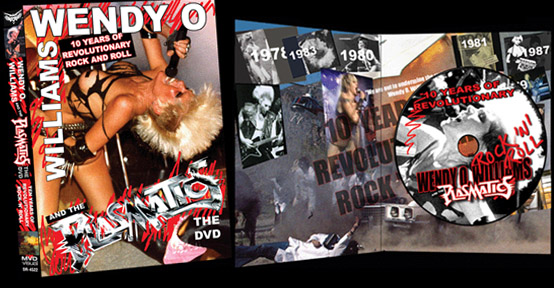 WENDY O. WILLIAMS AND THE PLASMATICS: THE DVD
10 Years of Revolutionary Rock and Roll
NOW AVAILABLE!
Over 3 hours of material covering the full 10 jaw-dropping years, the 8 studio albums, arrests, controversy, plus interviews with critics, band and crew members, plus live and video performance footage, much of it never seen before. Produced by Pandemonium Merchandising LLC and available from MVD vdeo.
HERE'S WHAT THEY'RE SAYING ABOUT THE DVD:
"...radical....one of the greats...From blowing up cars to chainsawing through guitars and sledgehammering TVs, it's all here....a must have or see for fans or anyone else for that matter" -Spider, The Rise and the Fall

"(she will)...stand through the ages as one of punk rock's founding mothers...mythical to me...breaking every and any barrier for women in...rock...If you're an ardent feminist.....Wiliams will worm her way into your heart, guaranteed...the DVD (will make) sure the jaw-dropping, risk-taking moves of this consummate performer will not be easily forgotten" Jenny Elig, INTake Weekly
"Wendy...was unorthodox in the best way possible. She pushed the boundaries of what was deemed acceptable at every corner... the first female in a band with unbridled aggression that scared the shit out of people...The woman was way before her time and this DVD does an excellent job of capturing that." - Jeanette Moses, SLUGMAG

"The highlight of the package for sure is the live footage...which wholly succeeds in showcasing why (Wendy) deserves the icon status that she achieved over the course of her career and since her untimely death." Leslie, CARBON 14
SEE MORE WHAT THE CRITICS
ARE SAYING!